The year 2017 marked the 100th anniversary of the beloved Girl Scout cookie, and there's no better time to dig in to the organization's sweet history. Here's everything you need to know when hunting for vintage Girl Scouts apparel, cookie boxes, badges, gear, and more.
BY

 

CAROLINE COLLINS MCKENZIE
PUBLISHED:
JAN 31, 2017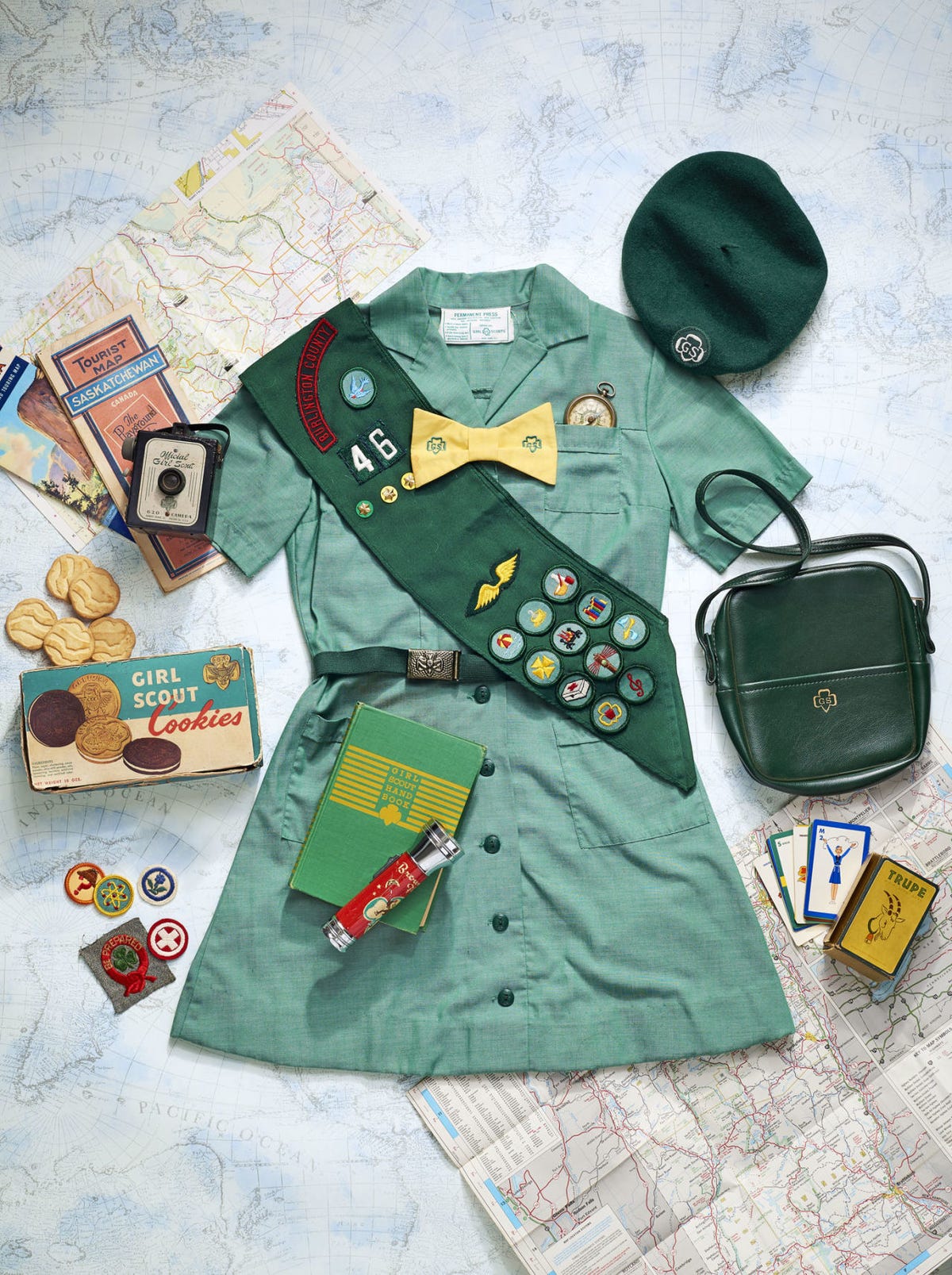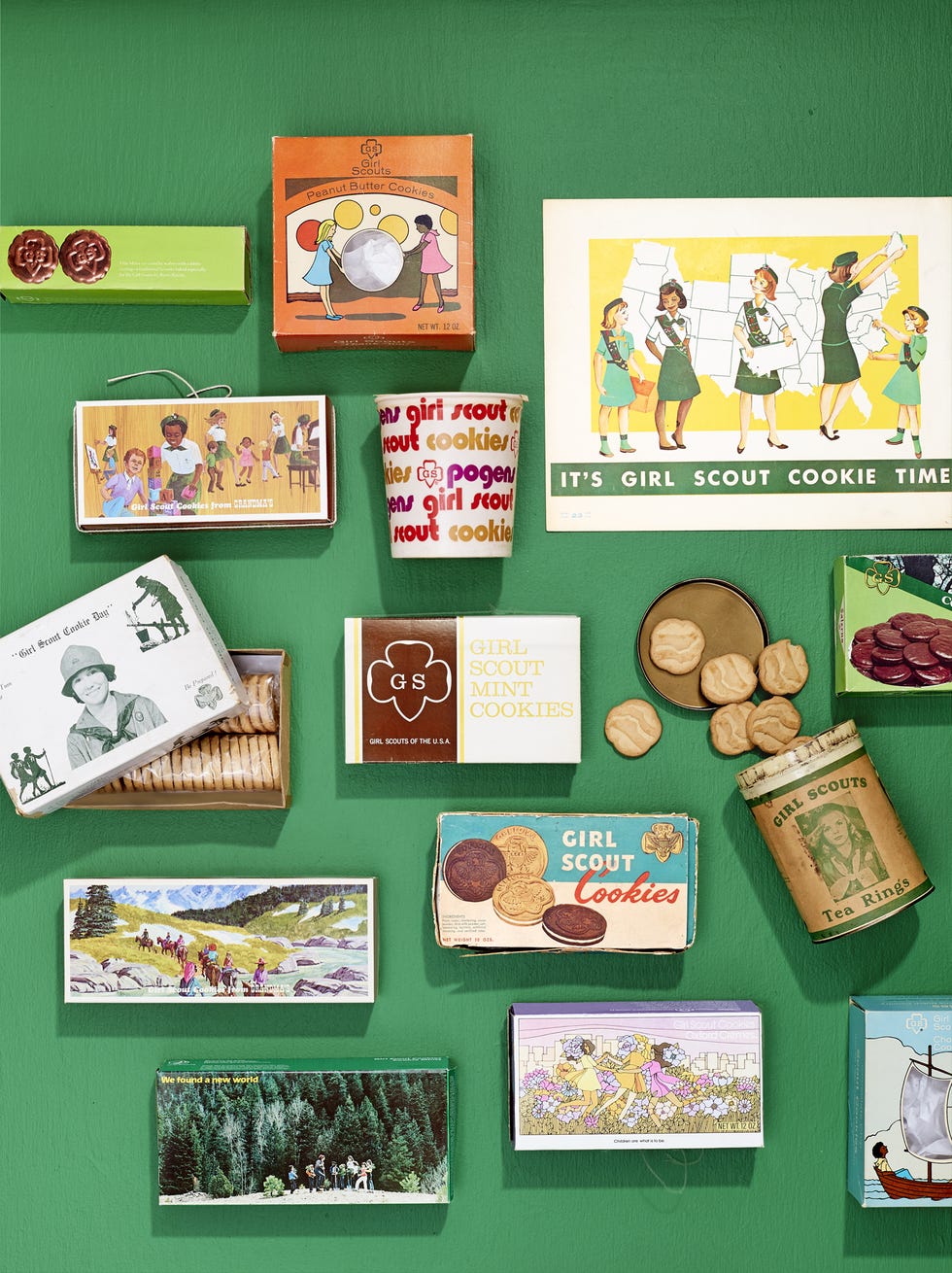 Cookie sales began in 1917 as a fundraiser for a single troop in Muskogee, Oklahoma, but quickly became a signature pillar of Girl Scout life. While cookie boxes and promotional posters aren't as collected as badges or uniforms, there's still a healthy appetite for certain items. Of particular note are the silhouette-adorned packages from 1936 to 1939 (white box, middle left), which were designed by popular female illustrator Jessie Gillespie and sell for as much as $35. A Tea Rings container (brown circular box, middle right) from the early 1930s is valued at around $20 and benefits from a secondary market of general cookie tin collectors. Less sought-after containers go for around $5 apiece.
BADGES
These emblems have been coveted for decades. Here are the honorable sums they'll fetch today: 1913 Naturalist, $300; 1913 Ambulance, $300; 1918 Public Health, $200; 1918 Naturalist, $25; 1920 Economist, $50; 1926 Craftsman, $15; 1930 Scholarship, $40; 1940 Handywoman, $9; 1963 Radio and Television, $9; 1974 Aviation, $10; 1974 Photography, $5; 1980 Science Sleuth, $2.
APPAREL
From the beginning, founder Juliette Gordon Low studied fabric swatches and pattern books to create an iconic look for her newly formed troops. Green proved the right hue to represent the organization, but uniform colors have varied through the years. Styles like this sash (bottom left) worn by an Intermediate Scout from 1935 to 1940 can earn up to $900, thanks in part to the number of pins and badges it sports (35 in total, including "Woodcraft Scout," "Star Gazer," and a "Golden Eaglet" valued at $450 alone). Newer items like the 1960s Senior uniform (green shirt, middle left) or the camp swimsuit from the same era make a splash at $75. Small accessories such as mid-century wallets (yellow wallet, bottom left), watches, compacts (tan compact, bottom right), purses, and scarves sell in the $5 to $15 range.
GEAR
Girl Scouts took their "Be Prepared" motto to heart with a wealth of outdoor gear. By the 1930s, as enrollment soared to more than 200,000 members (up from a mere 18 in 1912), the organization regularly issued tools such as pocket knives, first-aid kits, match safes, and canteens emblazoned with their trefoil logo. Today these all have a value in the $40 range. More recent offerings such as an aluminum "Brownie" flashlightand the tartan canteen, both from the 1960s, fetch closer to $20. Thanks to its pristine condition and fine craftsmanship, the cozy circa 1956 camp blankethas a value of $50. Look to novelty items such as the "Official Girl Scout Camera," produced by the Herbert George Company in the 1950s, to capture approximately $15, while its short-lived predecessor, a charming mint-green model, can be snapped up for twice that amount.
The Collectors Guide to Girl Scouts Memorabilia (countryliving.com)