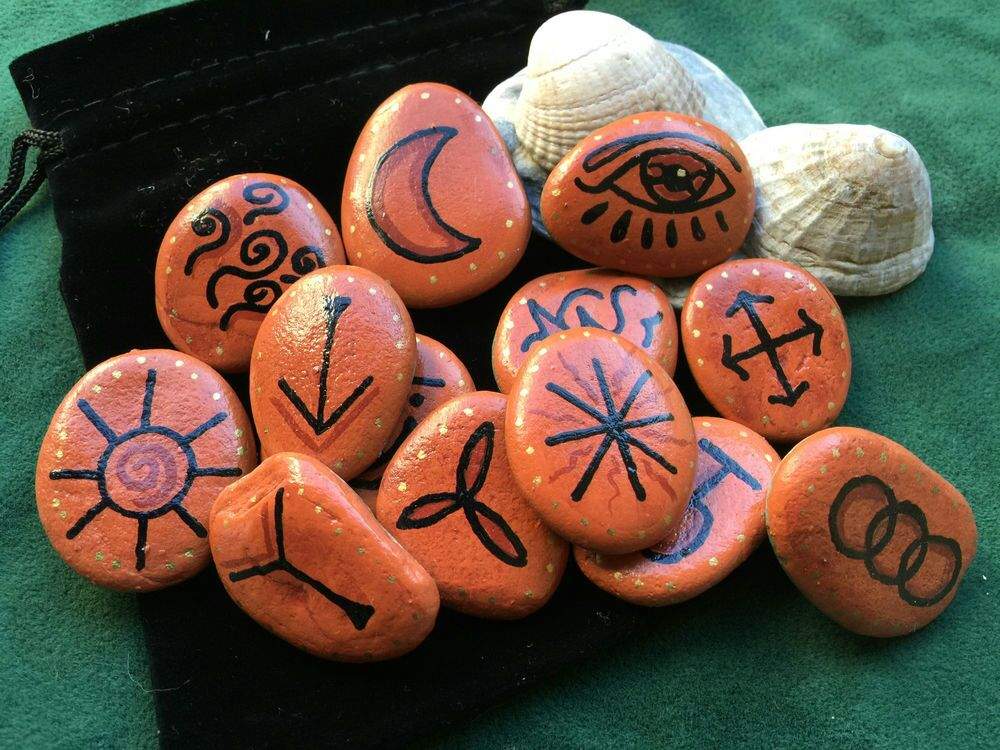 First off, Witch's Runes are used for divination purposes similar to how you would cast dice. You just throw them down all of them at once. The runes that land face up are the only relevant ones and all the ones that are face down, aren't. The most important rune in a reading is gonna be the one furthest from you. However, if all the runes are face down, it just means you're not supposed to know the answer yet. That being said, if you find yourself in that situation, you need to wait at least one week before doing another reading.
★★★
Anywaaaaay, on to how to make witches runes!
★★★
You can always buy runes online or wherever but when you make them yourself, they tend to be more powerful and more harmonized with you.
Now, there are two materials you can use to make your runes out of; wood or stone.
You can make wooden runes by getting a wooden dowel (1-1 1/2 inches in diameter) and cutting it into 14 (or 13 if you're not using a blank rune) disks. The disks shouldn't be too thick to the point where they won't flip but they also shouldn't be so thin that they'll break too easily. About half an inch to 3/4 of an inch should do. If you don't want to cut it yourself, most crafts stores have precut wood that should do well too. Just keep in mind, the more you do to create these runes, the more of your energy will be in it.
Instead of using a wooden dowel, you can also use natural wood. Just go for a walk in the woods, find a tree that you have a connection with, and ask it for branch that you can cut the runes from. Always ask for permission because trees have spirits and energy just like us (not to mention you're literally about to pull off one of it's limbs, and always leave an offering behind as thanks. Personally, I think natural is always the way to go since you have no idea what the tree from which the wooden dowel came from went through before ending up in a store. However, not everyone lives in the woods like me.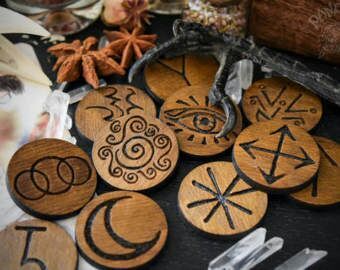 Anyway, those disks will be the base for the wooden runes but stones are cool too!
With stone, you can use your favorite gemstone or you can just go on another walk to a river or creek and find your stones that way. Again, ask for permission and leave an offering behind. Also, make sure you try to get each stone as close to the same size as possible, and make sure that at least one side of the stone is decently flat because it's harder to inscribe the rune symbols on a bumpy surface.
Now that you have all your stones or wooden disks, you can inscribe them with the runes!! For the wooden disks, it's best to use a wood-burning tool (plus it looks super cool). Or you can use paint, but paint works best on the stones. You don't need to use a specific color but gold or red on dark stones look pretty cool in my opinion. It's all up to you though. After painting the stones, you definitely wanna put a clear protectant over it to keep the paint from chipping. Shellac works great for this. Just slap on a few coats (allowing time for each coat to dry in between application) and you're good to go! Just don't try to dry them on paper because it will stick.
Here's the runes and their meanings if you didn't already know or if you weren't sure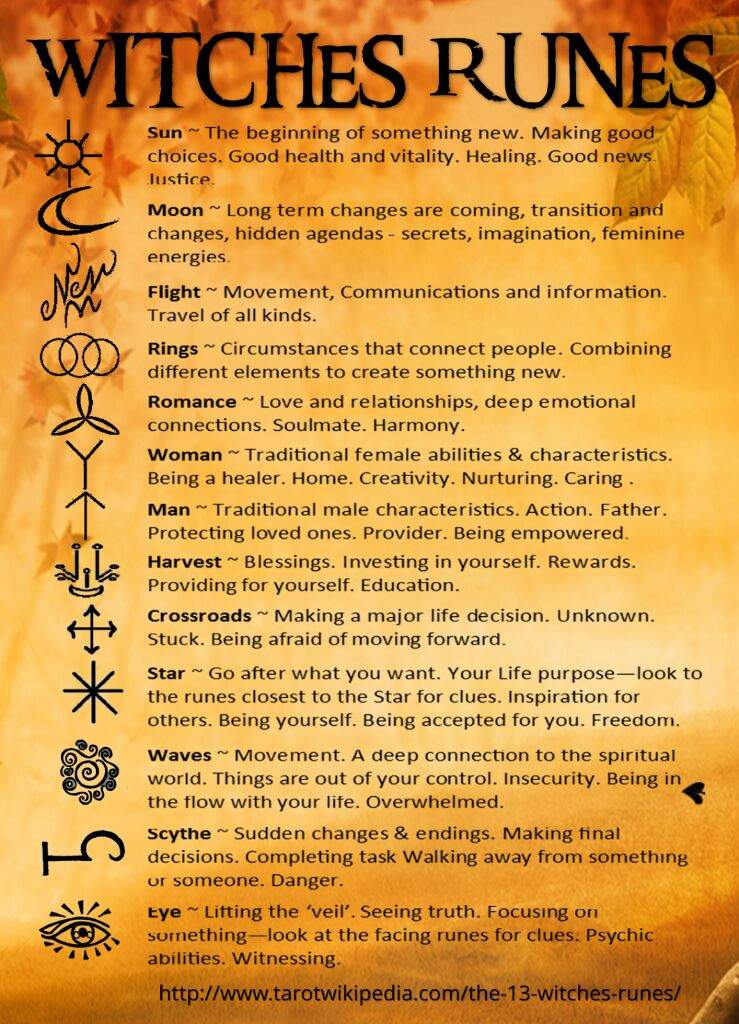 Once the runes are dry or done being inscribed, you can cleanse them.
When you have finished making your set of runes, it is important to cleanse.This can be done in a few different ways: they can be laid out in the light of a full moon for a night, or you can do smudging. The simplest method of cleansing them is to use naturally flowing water from a well, spring or stream.
***Do not use tap water as it is full of chemicals that are harmful to even humans***
If you often use your runes, especially if you do a lot of reading for other people, you're going to want to cleanse them regularly. You may also want to perform an annual re-empowering ceremony. After a while, you'll start to know when your runes need cleaning because of how they feel when you hold them (they'll feel uncomfortable). ALSO, If your runes have been locked away for a long period of time, you need to re-energize them by laying them outside for 24 hours.
★★★
It's also important to know how to care for your runes.
They should never be lent to anyone else for them to use.
This does not mean that other people should never touch your runes at all. It is sometimes necessary for someone else to touch them, like when you're giving them a reading. However, no one else should work with your runes on their own behalf.
To store your runes you will need a bag made of a piece of natural, unbleached fabric. Actually, I have a deerskin pouch that I was gifted with.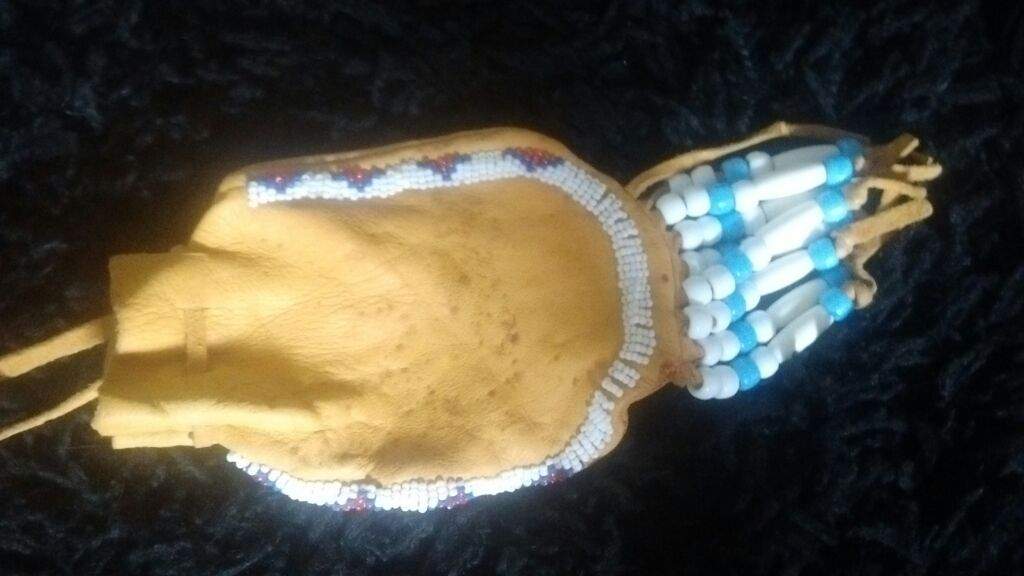 You also need a piece of natural-coloured fabric for a casting cloth to lay the runes on when you use them.
Anyway, that should be all. Treat your runes with respect and they'll never let you down. Learn them, love them, protect them. They're a part of you now...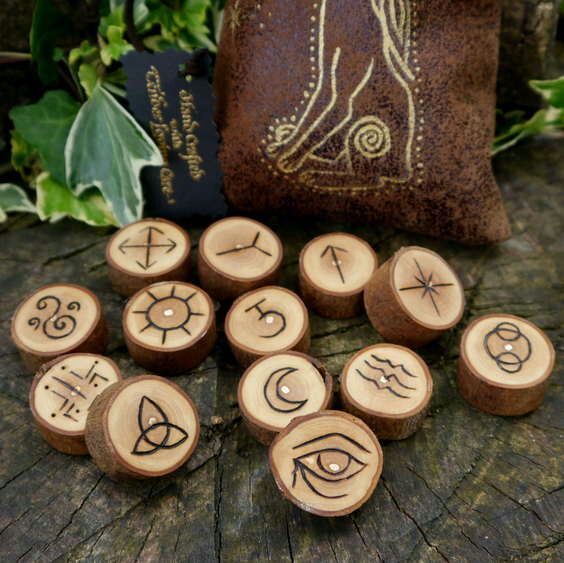 Ah, before I close this post off, after cleansing your runes you need to empower them. Lay them out in the midday summer sun or bury them in the Earth for nine days.
Anyway, I hope you look forward to my future posts lol. Have fun with your runes my dudes!! Peace be with you 
https://aminoapps.com/c/pagans-witches/page/blog/making-your-own-wi...