•To make hand-shaped ice, fill powder-free, latex-free rubber gloves with water and tie wrist end securely, then freeze.
•Syrup can be made 1 week ahead and chilled with spices. Strain before using.
A deliciously spooky way to toast Halloween, our Bubbling and Bloody Witch's Brew cocktail is made with club soda, rum, grenadine and an ice-cube-sized chunk of dry ice.
Ingredients
1/2

cup club soda
1/4

cup lemon-flavored rum (2 oz)
1

tablespoon grenadine syrup
1

ice cube-size chunk dry ice
Directions
1

 

In rocks glass, mix club soda, rum and grenadine. With tongs, add food grade dry ice to glass. Serve immediately.

WITCHES BREW CHICKEN SOUP RECIPE
INGREDIENTS:
1 tablespoon
butter or margarine
4 
skinned and boned chicken breast halves, chopped
2 
(14-ounce) cans low-sodium chicken broth
1 tablespoon
chicken bouillon granules
1/4 teaspoon
ground red pepper
3 
(16-ounce) cans great Northern beans, rinsed, drained, and divided
1 
(4.5-ounce) can chopped green chiles
2 tablespoons
all-purpose flour
1/4 cup
chopped fresh cilantro
Toppings: shredded Cheddar cheese, sour cream, sliced green onions, cooked and crumbled bacon
Preparation
Melt butter in a large Dutch oven over medium-high heat; add chicken and next 3 ingredients, and saute 10 minutes. Stir in broth and next 3 ingredients.
Bring to a boil; reduce heat, and simmer, stirring occasionally, 20 minutes. Stir in 2 cans of beans and chiles.
Mash remaining can of beans in a small bowl. Whisk together flour and milk, and stir into beans. Gradually add bean mixture to soup mixture, stirring constantly. Cook 10 minutes or until thickened. Remove from heat, and stir in cilantro. Serve with desired toppings.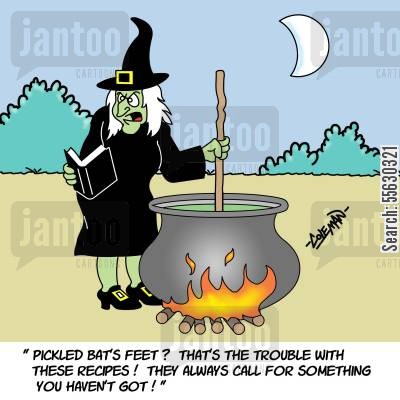 If you're not making Spookie Smoothies for Halloween this year, you have to whip up a big batch of this Halloween Witches' Brew. It's so good I'll be making it on Access Hollywood Live tomorrow! We don't have juice in our house very often because it's...
Ingredients
2 cups

 

apple cider

2 cup

 

cranberry juice

1 stick

 

cinnamon

1 tablespoon

 

lemon juice
Preparation
1. Place all of the ingredients in a bowl and allow to simmer for 10 minutes.
2. Serve.
https://www.google.com/search?q=witches+brew&espv=2&biw=136...
http://www.epicurious.com/recipes/food/views/witches-brew-356209

http://www.bettycrocker.com/recipes/bubbling-and-bloody-witchs-brew...
http://www.myrecipes.com/recipe/witches-brew-chicken-soup
http://weelicious.com/2011/10/26/witches-brew/