How Red Sand Is Highlighting Human Trafficking
To raise awareness on human trafficking, The Red Sand Project asks participants to scatter red sand on their cities' sidewalks. (all images courtesy Molly Gochman/The Red Sand Project)
Last year, New York-based activist-artist Molly Gochman read an article about human trafficking, an issue about which she was largely unaware. It cited some dire statistics about this ubiquitous but often overlooked problem: Estimates say nearly 36 million people worldwide are currently living in some form of slavery, whether it's sex slavery orlabor slavery, with 60,000 of them in the US; that 26% of today's slaves are children; and that the number of slaves has increased in the past several years. 
"I was appalled to learn about modern day slavery, and appalled that I hadn't really known it existed," Gochman tells Hyperallergic. "I reached out to several human rights organizations to ask what I could do to help. They all told me to 'raise awareness.'"
Since lecturing everyone she knew about human trafficking would make her a "bummer at parties," Gochman chose instead to educate the public via a participatory public artwork: the Red Sand Project. She's asking the public to fill cracks in their local sidewalks with red sand, which she sends out for free in Red Sand Project toolkits, along with fact sheets about human trafficking.
http://hyperallergic.com/wp-content/uploads/2016/01/IMG_0047-Version-2-269x180.jpg 269w, http://hyperallergic.com/wp-content/uploads/2016/01/IMG_0047-Versio... 768w, http://hyperallergic.com/wp-content/uploads/2016/01/IMG_0047-Versio... 1024w" sizes="(max-width: 640px) 100vw, 640px" />
Why red sand, and why sidewalk cracks? Resembling scars on the sidewalk, these jagged red lines of sand are a simple visual metaphor for the millions of trafficked people who "fall through the cracks" and a reminder to not simply "walk over" this marginalized population. It's also a symbol for strength found in numbers. "At first, human trafficking seemed like such a huge issue, and I thought I couldn't possibly do anything about it," Gochman says. "But these little grains of sand add up to transform these sidewalk cracks, and so it serves as a reminder that our small individual acts do add up to something."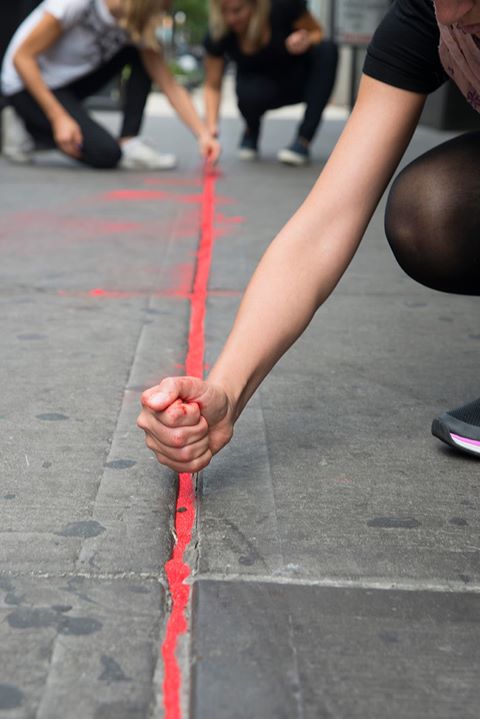 Gochman, who often works at the intersection of public art and activism, was inspired by the red and gray color palette of conceptual artist Barbara Kruger and by land artists like Robert Smithson. 
The phrase "raise awareness" is thrown around a lot in activist circles, as educating the public about your cause of choice is generally considered an important step in building a grassroots social movement. But it can be hard to gauge how all this "raised awareness" affects actual change.
After learning more about it, I realized that the Red Sand Project is just a small way to bring attention to a world-wide problem. Not only did my daughter have fun putting sand in the cracks of our sidewalks, but she also learned that there are little girls just like her that have to work all day, or don't have their own bedroom and toys to play with.
Check out this video of Molly talking about the #RedSandProject:
Join the Red Sand Project
If you are interested in joining Gochman's movement, or learn more about what she is doing, check out her website.
https://www.google.com/search?q=red+sand+project&espv=2&biw...
http://www.averageadvocate.com/2016/01/action-idea-red-sand-project...
http://hyperallergic.com/269113/an-art-project-ensures-victims-of-h...